Tai Chi / Qigong Class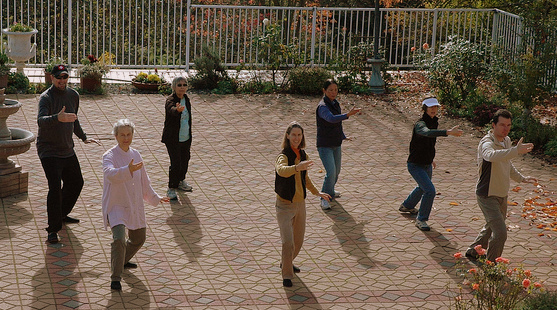 Saturday mornings 10 to 11:30 am
Journey inside moving life energy. Increase flexibility, relaxation, balance and concentration. Strengthen and enliven the body and spirit. Bring the inner smile out. Experience meditation in motion. Open to all levels. We warmup with Qigong and then transition to the Yang style long form Tai Chi set.
We will meet outside weather permitting, so please bring hat, sunglasses, windbreaker, etc.
Instructor Fern Jeffcoat has been teaching the Tai Chi Yang style long form and Qigong since 1993. She also practices and teaches Raja Yoga meditation. She led Women's Spiritual Questing Circles in Sonoma County in the 1980's. Fern combines movement with meditation to explore and integrate soul and body to ease into a state of health and wellness.
Please call for first class details. Otherwise, class is on a drop-in basis. Suggested contribution $10. Please check with our staff for details.
No class Saturday, December 28th. All other classes meet as usual.
Northern California - San Francisco Bay Area - Marin County - Novato - Bel Marin Keys