BK Shivani
June 15: Gift of Happiness
June 16: Special Meditation with BK Shivani
A unique opportunity to Celebrate, Meditate and Awaken with BK Shivani- World Renowned Spiritual Speaker, Woman of the Decade Achiever's Awardee, Goodwill Ambassador of World Psychiatry Association, TV Personality and No.1 Best-selling Author.
* Celebration * Motivational Talk * Meditation
* Event Free - REGISTRATION REQUIRED
* 4:30 pm Art Exhibits - 5:30 pm Program
* Everyone 15 years and older welcome
* General Seating: First Come, First Served
* Donation accepted
About BK Shivani:
World renowned spiritual speaker BK Shivani is a practitioner and teacher of Rajayoga Meditation which is taught at the Brahma Kumaris centers worldwide.
She is a recipient of Woman of the Decade Achievers Award (2014) by ASSOCHAM'S Ladies League for her Excellence in Empowering Spiritual Consciousness. World Psychiatry Association appointed her as a goodwill ambassador (2017).
Her pragmatic approach to spirituality has brought more than 59 million views on her YouTube Channel and over 1.6 million followers on her Facebook page.
First telecast in 2007, her widely popular television show Awakening with Brahma Kumaris has the rare distinction of having completed 1,000 episodes. It is aired in India, USA, UK, Asia Pacific, Africa, and Australia. Aimed at self-transformation, this show is classified into various series titled: Happiness Unlimited, Healer Within, Self-Management, Emotional Intelligence, Being Love, Being Shakti, Being Divine, Living Values, Relationships, Depression and Addictions.
Her book Happiness Unlimited is No.1 bestseller on Amazon India in Religious and Spiritual section.
She has traveled all over India as well as UK, USA, Asia Pacific, Africa and Middle East touching and transforming lives of millions through diverse platforms such as public programs, interactive workshops, retreats, seminars, corporate trainings, blogs, radio and television shows.
BK Shivani has been a sought after speaker by elite corporations, Indian Medical Association, Indian Armed Forces, Rotary Club, Lions Club, schools, universities and various other organizations. Renowned hospitals such as Apollo Hospital and Max Healthcare group (India) regularly invite her to address patients, especially those suffering from cancer. She has been a speaker on the theme of Yoga for Emotional and Mental Wellbeing at the annual conference of International Day of Yoga organized by Government of India.
A gold medalist in academics, BK Shivani is a graduate in Electronics Engineering and has teaching experience in that field.
Brahma Kumaris is a worldwide spiritual movement dedicated to personal transformation and world renewal.
Founded in India in 1937, Brahma Kumaris has spread to over 110 countries on all continents and has had an extensive impact in many sectors as an international NGO. However, their real commitment is to helping individuals transform their perspective of the world from material to spiritual. It supports the cultivation of a deep collective consciousness of peace and of the individual dignity of each soul.
REGISTRATION REQUIRED: BOOK YOUR SEAT NOW!

June 16: Special Meditation with BK Shivani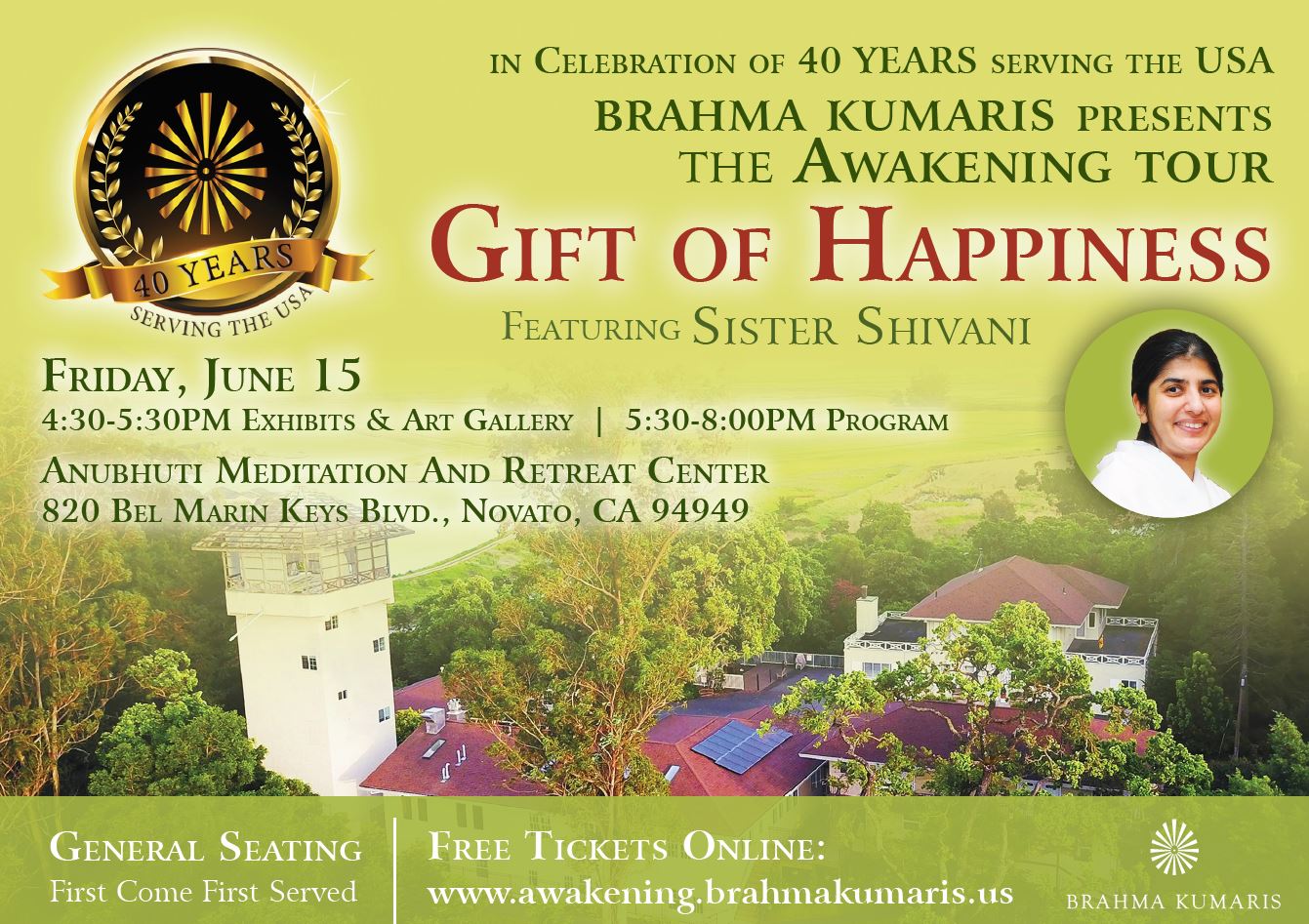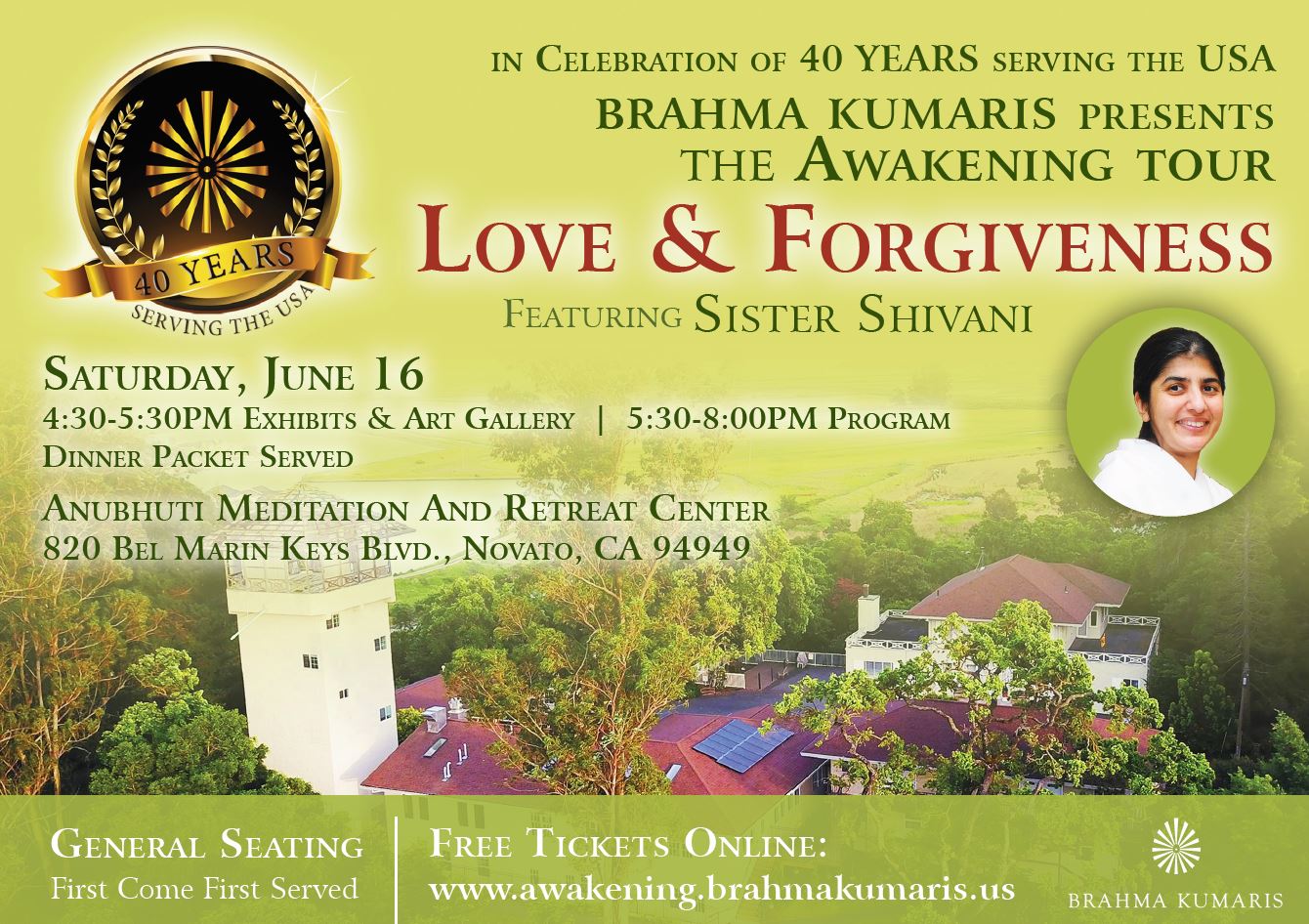 +1-415-884-2314

Email: This email address is being protected from spambots. You need JavaScript enabled to view it.


Please Call to Visit
820 Bel Marin Keys Blvd., Novato, California 94949 USA
Please visit our online shop.
Click here.