As world leaders scramble to limit the spread of COVID-19 and "save millions of lives", we are increasingly hearing concerns regarding how social distancing and lockdown measures will impact us all in the future. It has been called " The Great Pause".
For us here at Anubhuti, closing to the public has given us a chance to open to ourselves and the divine in new ways that we ha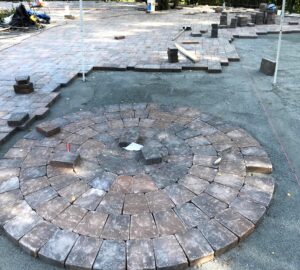 ve not had a previous opportunity to entertain. The entire center has had a spring clean with coats of paint, both inside and out. So much work was done in the garden to protect from wildlife nibbles so we can continue to provide fresh fruits and vegetables. Even though we had a drought of a summer, we still had a small harvest of peaches, Asian pears, figs, and several varieties of apples and plums. We even got to do some canning, preserving the fruits for later eating delight.
We had a series of workshops in Creating a Culture of Care. We learned active listening, ways to resolve conflict and handle bullying behavior. We wrote a new vision statement and created strategies to stay loving and respectful with each other. As a result, we have become a better team and instruments for serving a world that is in ever increasing chaos. Raja Yoga gives a deep reference point for sustaining the inner peaceful core that each of us has. Through our meditation practice, we are restored through union with the divine, pure, reference point that returns us to our light and delightful state of being.
Each day this drama of life has its gifts and lessons. It is going through an intense process of change as we transform into powerful, loving beings that learn to care for each other and the planet once again. It's a process of using creative power to bring nature and the elements back in balance once again.